Our exclusive fabric & material features
Luxaflex® window treatments are designed with fabrics and materials that offer beauty, functionality, durability, and sustainability.
We offer the biggest portfolio of unique fabrics in the market to give you a wide range of considered designs choices with practical problem-solving characteristics that can only be found at Luxaflex®.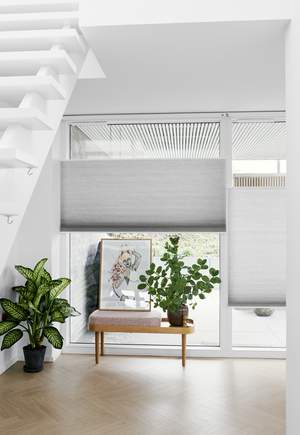 Duette® Shades
What's Your Need?
Protecting your home from everyday stains to enhancing your comfort level, our special solutions are designed to stand up to the challenges of daily life.
Top features:
Eco-friendly designs
Energy-saving solutions
Smart home control
Stain-resistant fabric finishes
Water-resistant materials
UV ray protection
Heat deflecting fabrics
Acoustic comfort fabrics
Light filtering fabrics
Durable and stylish options
Expert advice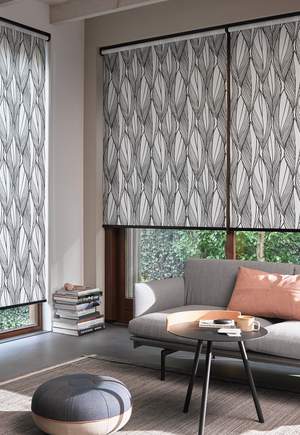 Made to measure Roller Blinds
1) Eco Friendly for Sustainable Living
For over 70 years Luxaflex® has pioneered sustainable design by developing products that possess innovative qualities, like managing light, insulating rooms, and saving energy.
To assess and certify the soundness of our materials, we've adopted the internationally recognised Cradle to Cradle Certified™ product standard. This guarantees that a product has been designed by selecting healthy and safe materials that are worthy of recycling, thus minimising and eliminating waste.
We are proud that our Duette® Shades, Roller Blinds, Plisse Shades, Vertical Blind fabrics, and our Aluminium Venetian Blinds, are bronze-level Cradle to Cradle Certified ™.
From the recycled ocean plastic in our Roller blinds to energy-saving designs, you can see all our eco-friendly products at your local Luxaflex® retailer.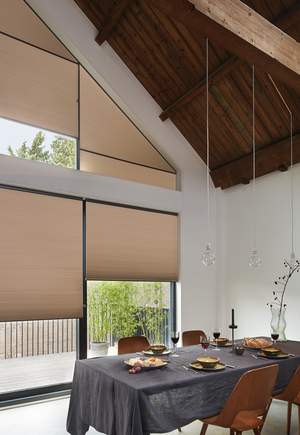 Duette® Shades
2) Insulation + Energy Saving for your Home
Did you know that a staggering 50% of heat is lost through windows, even with double glazing? The intelligent design of our award-winning Duette® Architella Shades can reduce this by almost half while helping to reduce your home's heating, cooling, and lighting needs.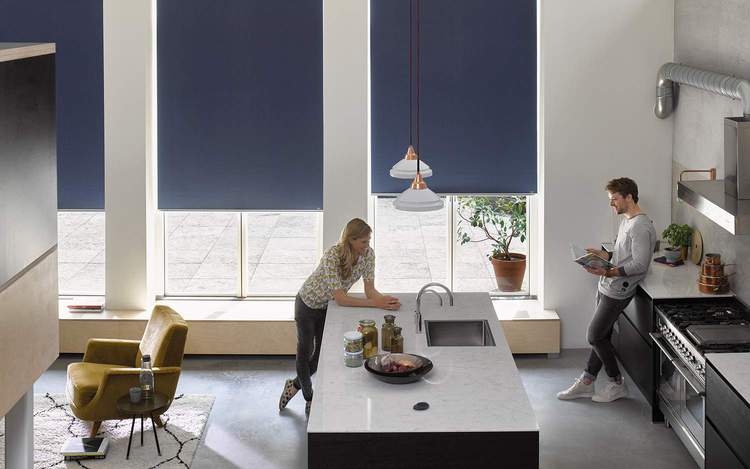 Kitchen Roller Blinds
4) Stain Resistant Fabrics
Hard Wearing by Design
When considering new window treatments for kitchens, bathrooms, or playrooms, a combination of beautiful design and durability is essential as these high-volume traffic-prone areas need to handle the rough and tumble of everyday life.
To keep your new window blinds looking great we've created a special fabric finish called StainStop®. This unique feature adds extra protection to fabric blinds, stopping stains and spills from common kitchen and household water-based marks like cola, fruit juice, tea, milk, coffee, vinegar, or honey. This makes it easy to wipe clean and maintain your Luxaflex® fabric blinds - keeping them looking new for longer. T
5) Worried About Water?

Durable Design
If you are looking for a hardwearing, water-resistant window treatment for your wet room, bathroom, kitchen or utility room opting for durable Faux Wood is one of the best choices you'll make. Faux Wood is flawless and perfect for spaces where humidity and water are present.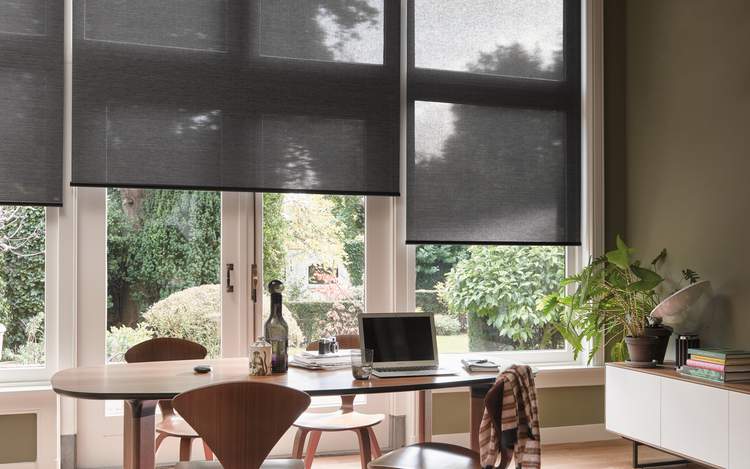 Screen Roller Blinds
Sunscreen for Your Floors & Furniture
A great choice for UV protection that also maintains your view of the outdoors is our special screen Roller blind fabrics.
Perfect for large windows, patio doors, and sunrooms, and they come in a range of opacities for controlling light and heat.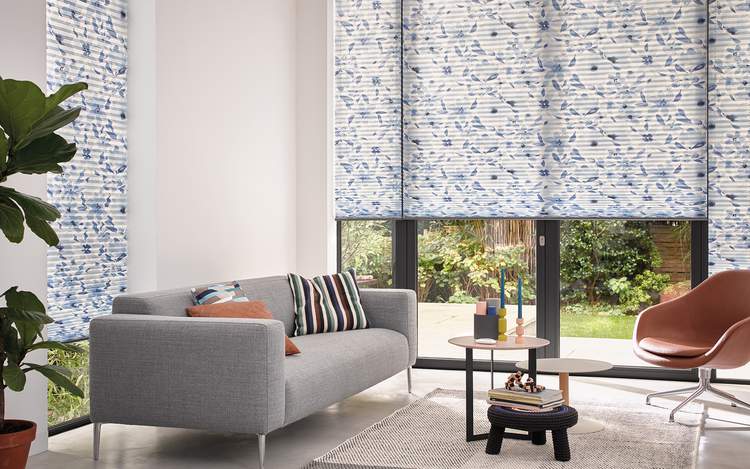 Plisse Shades
7) Heat Deflecting Fabrics
For those rooms in your home which suffer from excessive heat build-up from the sun, our special fabric finish called Topar® can really help.
This light-reflective coating helps reflect up to 65% of solar heat transfer that takes place through radiation. This in turn helps to create a more comfortable interior environment. Available with Duette® & Plisse Shades.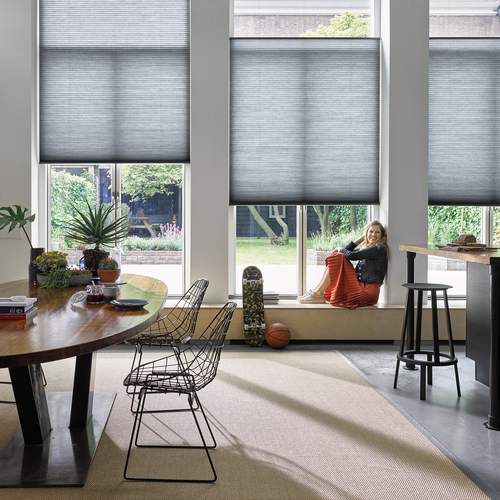 Topar for Duette® & Plisse Shades.
Special heat deflecting finish that helps make your home for comfortable.
8) Best for Acoustic Comfort
One of the challenges of open plan living with lots of glass and hard surfaces can be echoing and noise reverberation.
How comfortable the space feels is greatly influenced by the room's acoustics. Poor room acoustics make the conversation more difficult and it's harder to create a peaceful and cosy room. Many of our window blind styles feature special sound-absorbing fabrics that are designed to improve your home's acoustic comfort.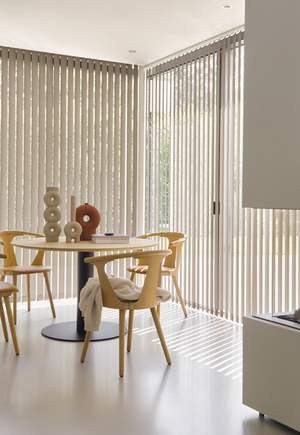 Modern Vertical Blinds
Enjoy More Peace and Quiet
The soft fabrics and air pockets in Duette® Shades help reduce annoying echoing from hard materials like glass, walls, and hard flooring by up to 60%.
And our new Riff and Sedna Vertical Blind fabrics can improve your room's interior acoustics by absorbing ambient noise and reverberations.
9) Best for Light Filtering
Softly Diffused Light
Many Luxaflex® products including our Silhouette® Shades feature innovative slats and vanes that allow you to deflect and redirect sunlight precisely where you want. Designed to offer a range of light control and privacy options with a broad selection of styles, our exclusive collection features sheer looks to room darkening options.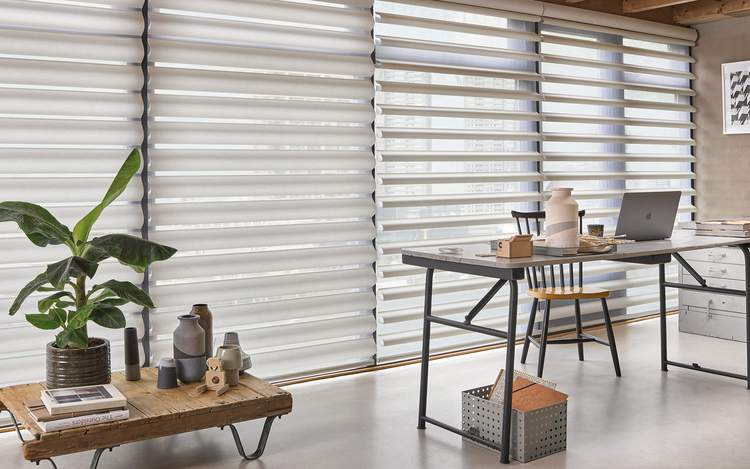 Special Fabric Features
Sheer beauty
The translucent fabrics that many of our products offer are specially engineered to diffuse harsh sunlight and draw it deeper into the room.- dispersing the light.
Our semi-opaque and opaque fabrics and materials are more appropriate for room darkening when you want as little light as possible.
Alternatively, our Day & Night blinds combine two fabrics, one sheer and one room darkening to give you limitless options for privacy and light control. This is ideal for multipurpose rooms.
10) Luxurious Styles - Designed to Last
The special fabrics used in our window treatments boast not only beauty but also long-term reliability.
From the delicate yet durable sheers in our Silhouette® Shades to the insulating material in our energy-efficient pockets in Duette® Architella® Shades, our highly engineered fabrics are guaranteed to perform over time.