Creating a Sustainable, Healthy and Comfortable Indoor Environment
When it comes to sustainable living you will often hear the term " Interior Comfort", but what does it mean?
There are 4 key elements that combine to make up the interior comfort of our homes.

Visual Comfort /Thermal Comfort /Acoustic Comfort/Indoor Air Quality

These 4 topics influence how comfortable, sustainable, and healthy the interior environment of our home is.
From artificial light to heating and cooling, to the material in your home, the type of windows you have, and window treatments, all contribute to interior comfort.

Let's look in more detail at the key factors and the role that right window treatments play.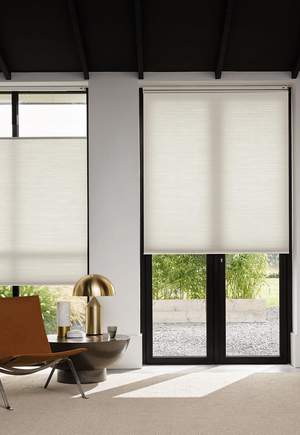 Duette® Shades
How Luxaflex® Products Contribute to Interior Comfort
Our products can enhance interior comfort by managing heat, cold, light, and glare, enhancing room acoustics, and indoor air quality, to create a healthier and more comfortable home for you and your family.

Visual Comfort:
Managing glare, directing natural daylight, room darkening, UV protection, and privacy

Thermal Comfort:
Helping regulate temperature, providing insulation, and thereby making your home more energy efficient

Acoustic Comfort
Reducing reverberation by reducing echo's from the glass by up to 60%

Indoor Air Quality
GREENGUARD Certified products have low VOCs keeping your indoor environment healthier. Moreover, because window treatments reduce temperatures, VOC emission by furniture will also reduce.
Browse our product page and be inspired with windows treatments that add real style and comfort to your home.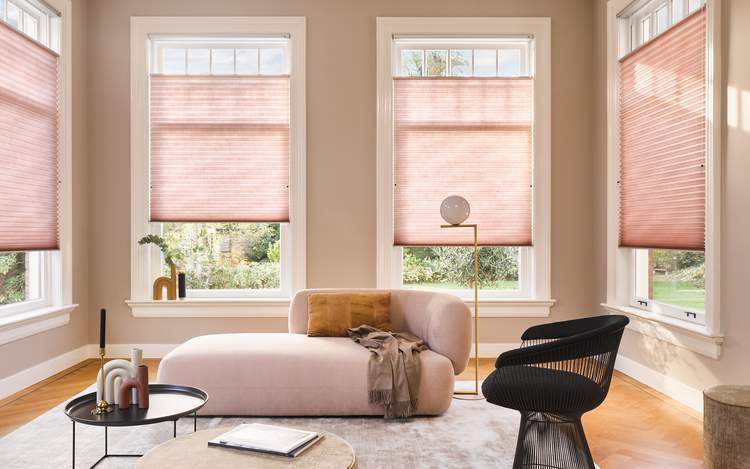 Duette® Shades
1) Visual Comfort - Feeling Good with Light
Visual discomfort occurs when there is too much light or the contrast is too high.
For example, getting the light right for the home office to room darkening in bedrooms or glare-free in the living room, light plays a huge role in how we feel and experience light.
Harsh light and glare ( and heat) can cause us discomfort and strain our eyes when light conditions are not right for the tasks we are performing.
Visual comfort is about creating the right balance with views of the outside world, light quality, and the absence of glare.
Choosing the right window treatments can harness and change the light as your needs change through the day.
Silhouette ClearView™ Shades
How Do Blinds Help Get the Light Right?
Effectively controlling glare and light and maintaining a comfortable temperature helps to create a sense of comfort in every room.
Every room in your home has its own quality of light depending on which direction it faces; how large the windows are and whether it is on the ground floor or upstairs.
Choosing the right window coverings, combined with nuanced artificial lighting and insulation can transform the sense of comfort in your home.
As light and privacy often go hand in hand so think about your requirements as well as your views.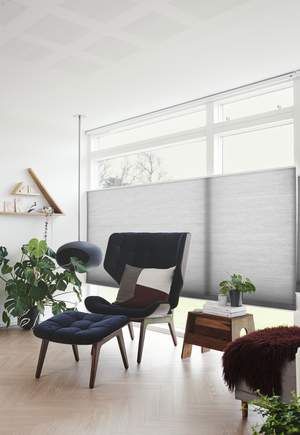 Duette® Shades with Top Down Bottom Up control
Managing Light & Privacy
Concerned about privacy?
If your privacy is compromised, you may want to consider Top-Down Bottom-Up control that lets you open, close, and adjust your Luxaflex® blinds from the top, the bottom, or somewhere in between.
This highly versatile method of controlling blinds lets you create the perfect balance of natural light and privacy. Available with our Venetian Blinds, Duette®, and Plisse Shades.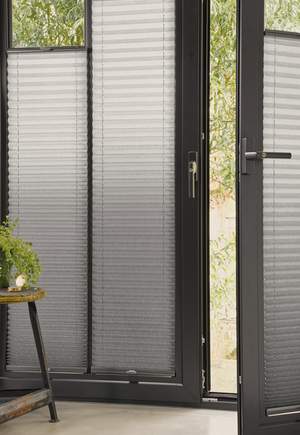 Patio Door Blinds
How To Manage Light Through Doors?
If your home has stunning extra-large patio doors, you'll need flexible blinds that can filter light and glare as well as heat or cold, whilst still giving you access to natural light.
Our special solutions for patio doors, bi-fold doors, and French doors can help you create just the right amount of light comfort for how you want to live. These unique made-to-measure designs won't interfere with the opening or closing function of the door or access to the outside.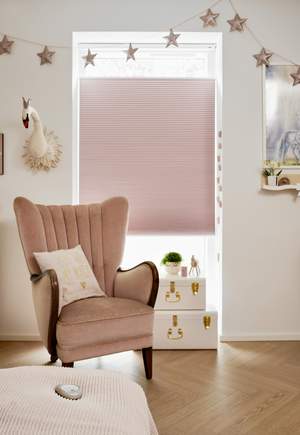 Duette® Shades
2) Thermal Comfort - Getting the Temperature Right
Thermal comfort means feeling neither too hot nor too cold.
It's an important factor for our health and well-being, even affecting our productivity. Too warm, you can start to feel lethargic or find it hard to sleep; too cold, and you can feel restless and distracted.
Indoor temperatures are directly influenced by solar heat gain through windows so they play a big role in thermal comfort. Up to 50% of a home's valuable and expensive heat can escape through windows in the winter, even with double glazing.
Conversely, in the summer, windows can let too much heat gain in making our homes feel uncomfortably hot.
The good news is there are practical and stylish Luxaflex® window treatments that can help solve this issue.
How to Improve Thermal Comfort with Blinds?
Getting the thermal comfort in your home just right makes a real difference to your overall sense of well-being, plus it can make your home more sustainable and energy-efficient too.
As more and more homes are designed with substantial areas of glazing, new solutions are needed to reduce glare and regulate thermal gain to make a space more comfortable.
The unique design of Luxaflex® Duette® Architella Shades is very effective at managing thermal comfort with a unique honeycomb design that traps air inside. This helps to keep your home warmer in winter, cooler in summer, offering insulation and temperature control.
Roller blinds with a highly reflective metallised back can also be very effective. Radiation from the sun is reflected right back, reducing heat gain. In winter, the metallised back will reduce heat transfer from your room, via the windows to the outdoors (just like a metallised emergency blanket).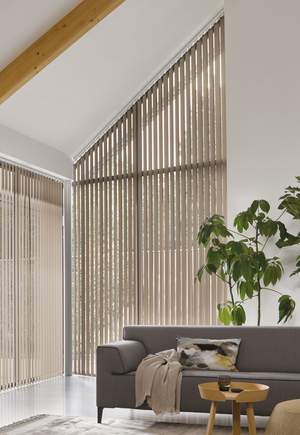 Vertical Blinds
3) Acoustic Comfort - What is it?

One of the challenges of open plan living with lots of glass and hard surfaces like floors or worksurfaces can be reverberation.
Poor room acoustics make the conversation more difficult so enhancing the acoustic comfort will greatly influence how you feel in that room. And if like many of us you work from home these days, you'll know how hard it is to focus in a noisy environment.
Adding softer surfaces like rugs can help dampen flooring but Luxaflex® acoustic window blinds can make a significant difference in a room and here's how...
The Best Blinds for Acoustic Comfort
Our innovative window blind styles feature special sound-absorbing fabrics that are designed to improve your home's acoustic comfort.
New Vertical Blind Riff and Sedna fabrics can help improve your room's interior acoustics by absorbing ambient noise and reverberations. And the air pockets in Duette® Shades, for example, help reduce annoying echoing from hard materials like glass, walls, and hard flooring by up to 60%.
To work with your decor style, there's a wide range of styles, colours, and fabrics to choose from, and with expert advice, you'll be able to solve your room's particular acoustic challenges.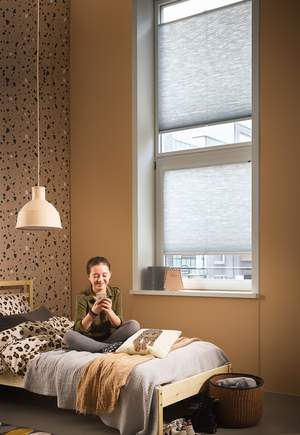 4: Indoor Air Quality - Why Does it Matter?
Why is a healthy indoor environment important?
The majority of everyday chemical exposure in people occurs through the air we breathe in our homes, offices, schools, and other indoor environments. Commonly referred to as Volatile Organic Compounds (VOCs).
These airborne chemicals are used to manufacture building materials, interior furnishing, cleaning products, and personal care products. VOCs can include both naturally occurring and man-made compounds and some VOCs can cause health problems.
Keeping surfaces in the home cooler from the sun can help reduce the amount of VOCs that are released when they are heated up – window shading products can help reduce this.
Buying products (including window blinds) for your home that are certified with low VOCs can contribute to a healthier indoor environment for your family.
Certified Window Blinds Contribute to Indoor Air Quality

At Luxaflex® many of our products are GREENGUARD or Ökotex-100 Certified to ensure a healthier indoor environment for your home and reduce chemical exposure.
The GREENGUARD Certification program helps manufacturers create products and materials that have low chemical emissions, improving the quality of the air in which the products are used. All certified products must meet stringent emissions testing giving assurance that the claims being made have been tested and verified to the industry's highest standards.
Our selected GREENGUARD or Ökotex 100 certified products include Luxaflex® Roller Blinds, Pleated Shades, Duette® Shades, Vertical Blind fabrics, and Aluminium Venetian Blinds.